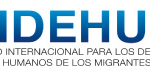 International Center For Human Rights of Migrants (CIDEHUM)
Affiliation or Individual:
Gabriela Rodriguez Pizarro, Sharon Granados Mahato
City, Country:
San José, Costa RIca
Objective / Mission Statement:
To support or contribute to the full respect and application of the human rights of migrants, people applying for refugee status, particularly unaccompanied children and adolescents who are vulnerable to being victims of illicit trafficking and smuggling.
Area of work:
127, 126, 125, 123, 129
Key activities relevant to PDD:
Among the actions performed where the visit of the border between Spain and Morocco. Worked directly in the communities affected and on the borders in Central America dealing on forced displacement. Elaboration of a diagnosis for the AHNCR on forced displacement caused by transnational organized crime and natural disasters. Elaboration for the Nanses Initiative a report called Migration Trends, Guidelines and Legal Frameworks for Migration in Central America (Dec. 2013). Accompaniment in the frontiers of Central America for the displacement caused by the emergencies of hurricane Otto.