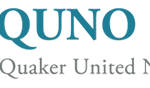 Quaker United Nations Office (QUNO)
Affiliation or Individual:
Lindsey Cook, Cassandra Moll, Catherine Baker
City, Country:
Geneva, Switzerland
Objective / Mission Statement:
We work steadily to bring Quaker peace and justice concerns to international processes, focusing on the areas of peacebuilding and armed conflict, human rights and refugees, food and sustainability, and climate change. We strive towards international standards and practices that enable and empower peaceful social, political and economic relationships. We are committed to supporting international processes that can build a safer, sustainable and more just world.
Area of work:
127, 125, 123, 129
Key activities relevant to PDD:
Please see above – " our work on climate change, human rights and refugees, food security and rights-based approaches to sustaining peace, all link to PDD concerns.
Website:
https://quno.org/
Twitter:
https://twitter.com/QuakerUNOffice