In Conversation With…
Lena Dobrowolska and Teo Ormond-Skeaping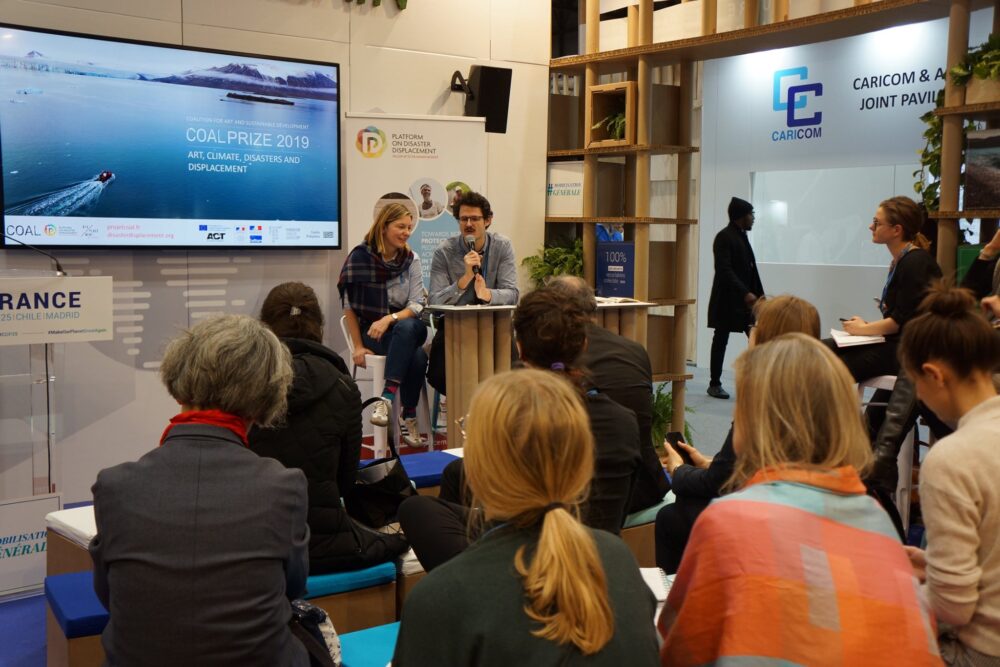 "We don't need more pictures of polar bears on thin ice. We need to connect the impacts of climate change to people."
In 2019, the Platform on Disaster Displacement (PDD) collaborated with DISPLACEMENT: Uncertain Journeys and the Coalition for Art and Sustainable Development (COAL) for a special edition of the COAL Prize on the theme Climate, Disasters and Displacement. The Prize highlighted the work of artists around the world on displacement related to disasters and the adverse effects of climate change.  In December 2019, in the heart of the United Nations Conference on Climate Change (COP25) in Madrid, the French Ambassador for Climate, Brigitte Collet presented the 2019 COAL Prize to artists Lena Dobrowolska and Teo Ormond-Skeaping for their project You never know, one day you too may become a refugee. The winners attended COP25 and brought their artwork to policymakers at the negotiating table. The artistic duo have been making work in relation to climate change, particularly linking climate change to human rights and humanitarian issues since 2012. Towards the end of their time at COP25, they sat down with the PDD Secretariat on a sunny Madrid afternoon to reflect on their experience…
PDD Secretariat: It is day 5 of your week at COP25 in Madrid. How do you feel?
Lena Dobrowolska and Teo Ormond-Skeaping: Tired, but in a good way. We feel both overwhelmed and underwhelmed.
We are very inspired by most of what we have experienced, heard, and learned, and the conversations we have had. We feel that we are gaining a lot of knowledge, starting with the idea that the term "climate refugee" is not supported by those who work on disaster displacement since it has no legal definition, to the working of the International Panel on Climate Change (IPCC), to the multifaceted nature of climate change and human mobility, to the role of slow-onset events. We also feel privileged to have access to the negotiations, and actually see how the process works.
On the other hand, we were surprised to see how few people are working on the issue of climate change-related displacement. It was interesting to hear from those working in the field that the issue was on the periphery of negotiations not so long ago. But it was also interesting to see how the issue of human displacement is becoming central to understanding how climate change will be affecting people, particularly in connection to Loss and Damage.
PDD Secretariat: How do you see your work contributing to what is happening here at COP25?
Lena Dobrowolska and Teo Ormond-Skeaping: The most important thing is that this is the first time that we have actually presented our work directly to policymakers, and particularly negotiators. The difference when presenting to the public is that potentially the section of the public that normally comes to art events are the already "converted" – they are convinced about these issues. Here, it is a much more direct intervention. Our role is not just to communicate the issue, but also to speak to policymakers on behalf of the civil society perspective, and to do that in a way that is not just more words, more talk, more pledges, more promises, but communicating in a more human and emotional way. Particularly, working in the context of what the PDD does, and also in the context of the review of the Warsaw International Mechanism on Loss and Damage, it has been enormously enriching in terms of what our practice is trying to communicate. It was a phenomenal experience to see people who have actually worked directly with this issue on the policy side reacting to and interacting with our work.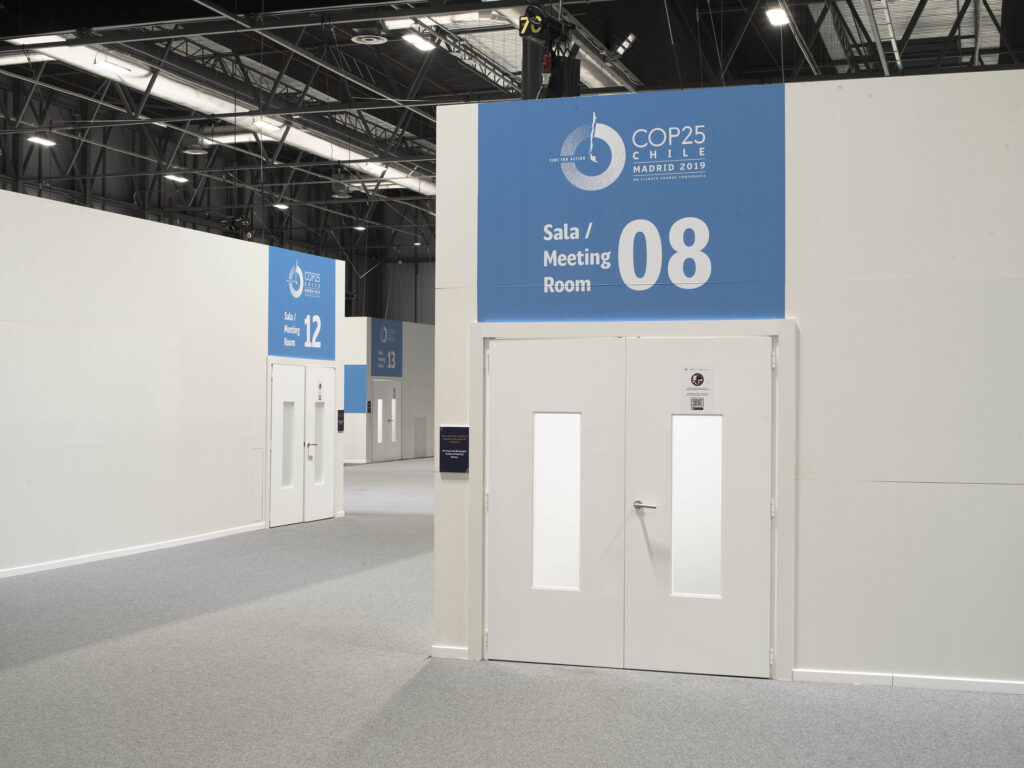 PDD Secretariat: You have met a lot of people during the week and through the different events you have attended. What was the thing people told you that was most useful for your work?
Lena Dobrowolska and Teo Ormond-Skeaping: There is no one specific conversation that was more important than the others; it is the sum total. It was significant to hear that there is a need for artwork, that it is valued, and that its power cannot be underestimated, especially as a lot of the work that we do is not funded. We do not do this as a job in that we do not benefit from it financially, so that gives us a lot of moral fuel to keep going.
We had not realized that there were gaps in policymaking like the ones that PDD are working on. Artists work in much the same way – we exploit the gaps and create visual representations of things which haven't been represented before. So for us, to know that you are also working to highlight the importance of Loss and Damage in the context of climate change and displacement ties in very very well with the type of work that we are doing, which is to highlight that we don't need more pictures of polar bears on thin ice. We need to connect the impacts of climate change to people. Even here at COP25, we saw a pavilion for the cryosphere, but no pavilion representing those displaced by climate change. We need to take climate change from this away-place such as the glaciers and cryosphere in the North and bring it to your home, to your kitchen table to understand it.
To be able to access and communicate with organizations like IOM (the International Organization for Migration) and UNHCR (the UN Refugee Agency) simply would not have happened without this opportunity. Hearing from communications specialists who work on behalf of these agencies and hearing about the specific problems and the current issues that they deal with in communicating in their strategies was very beneficial to compare the two modes – art and policy – and how they operate. It was great to understand where we perhaps actually have similar issues. The only reason why we are able to have these conversations is because we are here and have been brought in as equals with the knowledge that we can contribute.
It was very important for us to see that negotiations, however enveloped they are in the technical language, are just meetings of people trying to have conversations together and that realization was powerful because it made us think of how it is equally important when people meet on the streets or as part of an art event and speak together. This is something we would like the viewer/participant of our experience to take away with them as we think it is a good antidote to feeling overwhelmed and powerless by issues relating to climate change. The knowledge that we can contribute to the pursuit of climate justice is very encouraging for us as it further legitimizes our work and requires us to continue to step up our collaboration with organizations and the quality of research that we undertake.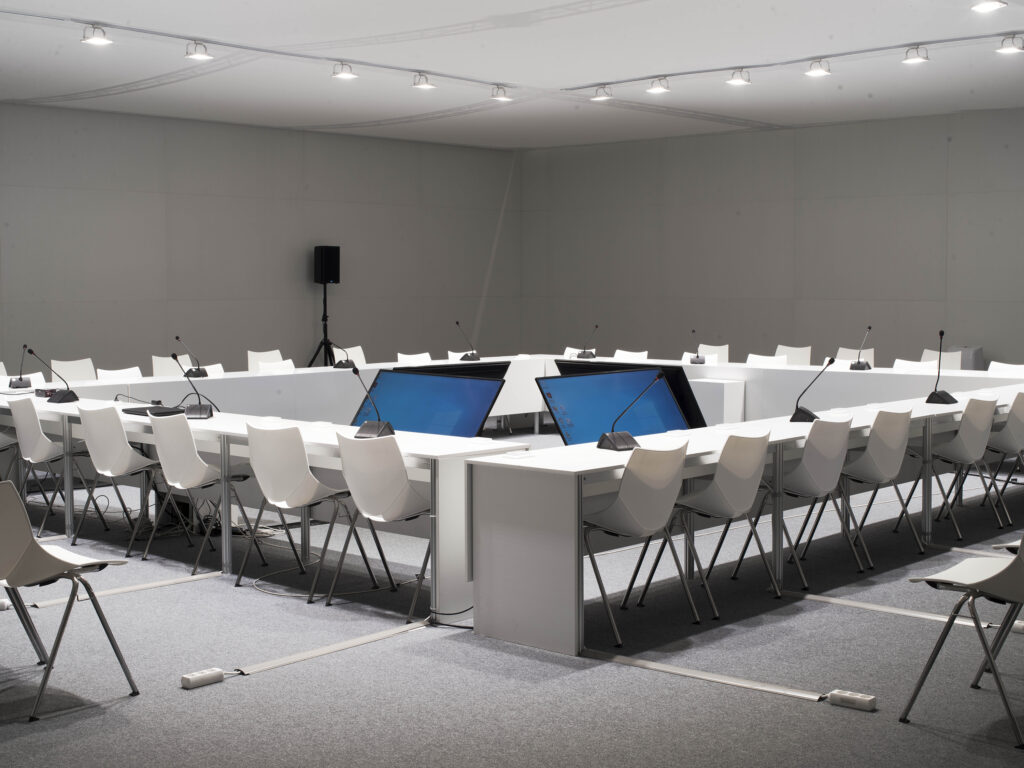 PDD Secretariat: Based on your experience here and exchanges with policymakers, what would be your advice to policymakers?
Lena Dobrowolska and Teo Ormond-Skeaping: The most impassioned statements were the most memorable. There was a clear difference in the way that developed and developing countries spoke. It makes a real impact in the room when negotiators from the Global South actually talk about those who are affected; it brings the issue into the room. What we were able to observe, particularly in the negotiations and in the side event which we were a part of, is that as laypersons first to the language, we were far better able to understand the position and the difficulties that the LDCs (least developed countries group) were facing simply because of the way that they spoke. They spoke in the way that very much condensed the issue into what practical solutions can be achieved. It was also told in a way that was engaged, emotional, from the heart, and very successful as a way of communication and connecting.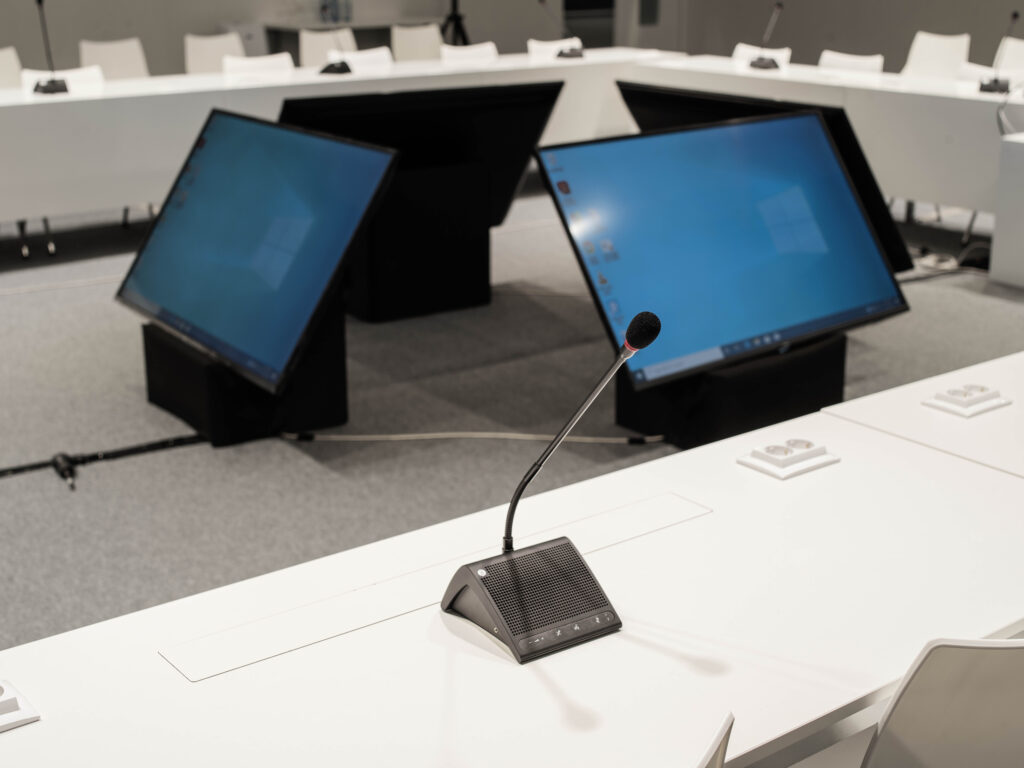 ————————–
On that note, we bid a temporary adieu to our artist friends and wait eagerly to see how their project You never know, one day you too may become a refugee shapes up and comes to fruition this year.