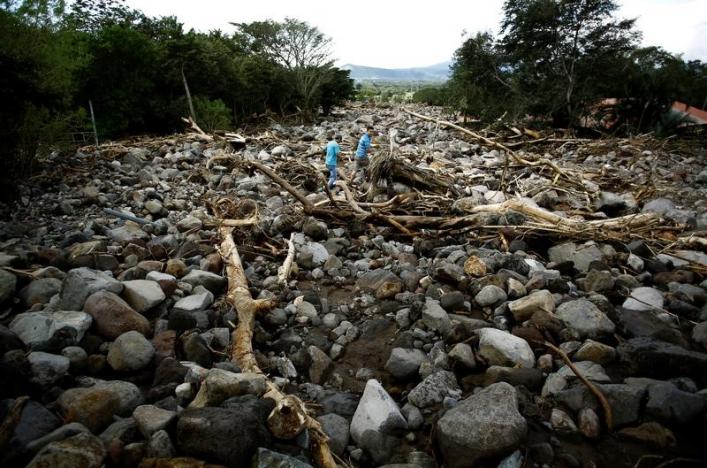 First Disaster Displacement Bi-National Workshop in Central America
When Hurricane Otto landed late last year in Central America, more than 150 Nicaraguans crossed the border into Costa Rica in need of food, shelter and medical assistance. Costa Rican authorities gave them full humanitarian relief. Today, for the first time in Central America, authorities from two countries meet in San José, to better prepare for and respond to such situations.  
The two-day workshop held by Costa Rica and Panama will determine clear measures to jointly respond when a disaster hits again. As the first phase of an exercise, the workshop will establish Standard Operation Procedures (SOPs) on how the two countries can concretely collaborate and help people affected. It will also identify ways of integrating the regionally adopted Guide to Effective Practice for RCM Member Countries: protection for persons moving across borders in the context of disasters into the countries' own policies.
The second phase to take place in the middle of this year will be a simulation in which the two countries will test the developed procedures and further strengthen their joint response. The simulation will be based on a fictitious scenario in which the two countries will have to respond to a massive cross-border disaster-displacement.
The workshop is organized by the Costa Rican National Emergency Commission together with the Platform on Disaster Displacement. Participants include representatives from both countries of relevant Ministries such as: migration, foreign affairs, health, affected populations, emergency response, disaster risk management and security. Disaster Risk Management Agencies are also participating
Other regional actors present are: the International Organization for Migration (IOM), the UN Refugee Agency (UNHCR), the national Red Cross societies of Costa Rica and Panama, and the Coordination Center for the Prevention of Natural Disasters in Central America (CEPREDENAC, Centro de Coordinación para la Prevención de los Desastres Naturales en América Central).
Costa Rica is one of the Steering Group Members of the Platform on Disaster Displacement and a regional champion in Central America.
Picture: Men walk in area damaged by a landslide after Hurricane Otto hit in Guayabo de Bagaces, Costa Rica, November 25, 2016. © REUTERS/ Juan Carlos Ulate
Workshop Draft Agenda (ES)
Workshop Concept Note (ES)
RCM Guide to Effective Practices (EN)
RCM Guia de practicas eficaces (ES)
Guide to Effective Practices Explainer