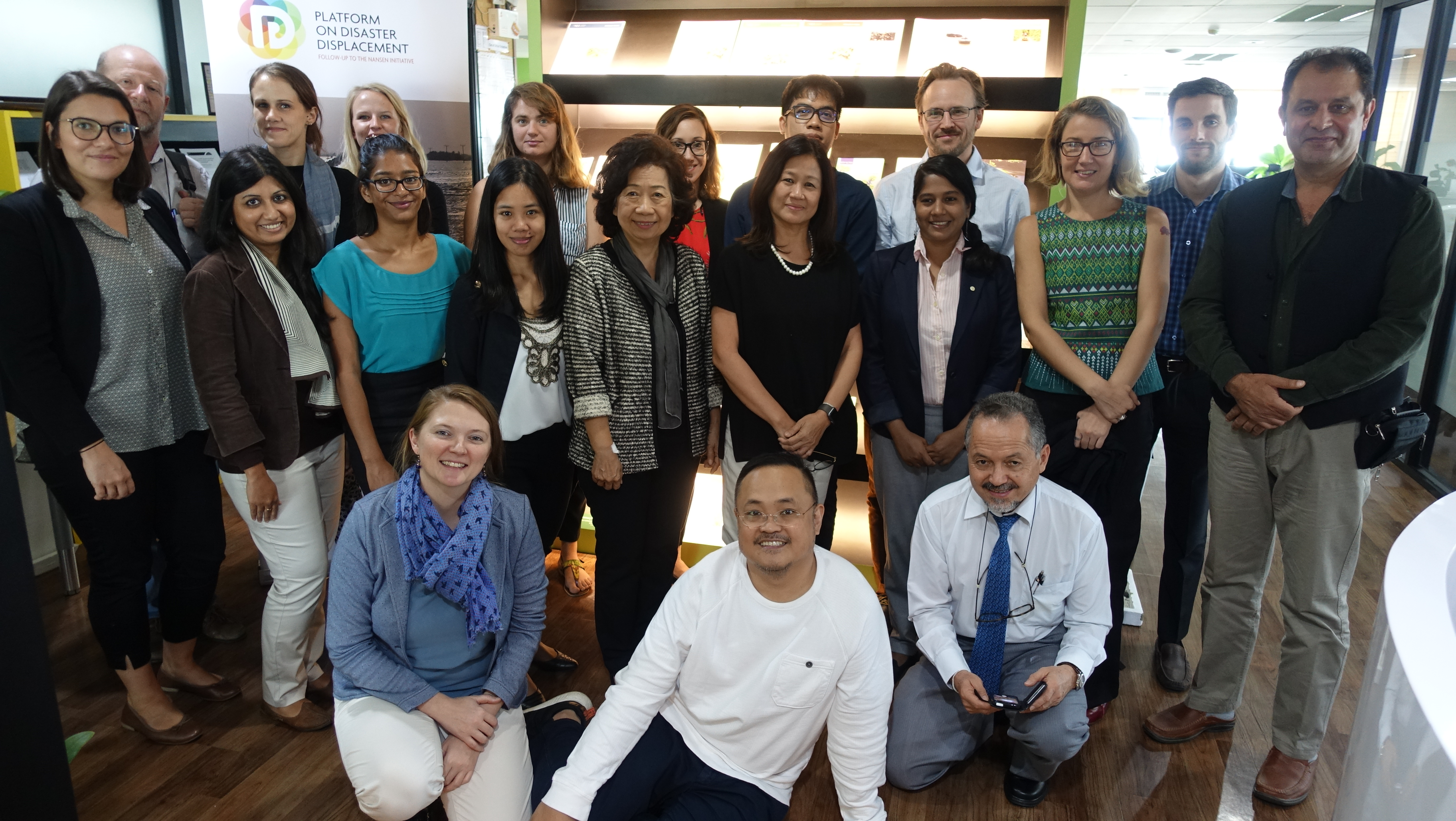 Roundtable on Displacement in the context of disasters – working with the Protection Agenda in Southeast Asia
On 20 December 20 2017, the Stockholm Environment Institute (SEI) Asia Centre, the Platform on Disaster Displacement (PDD) and the Asia Research Centre for Migration (ARCM) organized a half-day roundtable in Bangkok on Disaster Displacement in Southeast Asia. The roundtable introduced the Platform on Disaster Displacement and the Nansen Initiative Protection Agenda to key actors from the UN, international organizations, civil society and academia in the region. It aimed to initiate a network of relevant actors and experts with a focus on the complex humanitarian and development challenges faced by countries and people in Southeast Asia as a result of disaster displacement.
Aims and rationale for the Roundtable
While progress has been made towards providing better protection and assistance to disaster displaced persons, more needs to be done to understand how displacement can be prevented in specific contexts, how preparedness can be improved, and how disaster displacement can be managed. This roundtable had the aim to introduce the Platform on Disaster Displacement (PDD) and the Nansen Initiative Protection Agenda to key actors in the Southeast Asian region, and to:
– provide an opportunity for the involvement of multiple actors with diverse knowledge and experiences in the co-production of collaborative learning and contextual actionable knowledge around disaster-induced displacement in Southeast Asia.
– initiate a network of researchers and practitioners aiming at co-developing sustainable and evidence-based initiatives and solutions for prevention, preparedness and post-displacement protection guided by the Protection Agenda.
Sessions during the half-day roundtable set the scene for the need for collaboration by:
– presenting and discussing the Platform on Disaster Displacement (PDD) and the Protection Agenda and its relevance in the Southeast Asian context.
– introducing participants and their work on disaster-induced displacement.
– proposing strategies and concrete plans for collaboration on initiatives in the region.
Participation, discussion items and outcomes
The roundtable brought together a wide-range of actors working on the issue including representatives from UN Agencies (UNEP, UNDP, UNWomen, IOM, UNHCR, OCHA, ILO), civil society organizations (Asia Pacific Refugee Rights Network, ACT Alliance, Migrant Forum in Asia), research institutes such as the Raoul Wallenberg Institute (RWI) and Asian Migration Research Centre (AMRC) as well as other actors including the German Corporation for International Cooperation (GIZ) and the Swiss Development Agency.
The Roundtable started with a welcoming session and introduction by all participants and their engagement on disaster displacement in the region. A presentation on the work of SEI, ARCM, and PDD/ the Nansen Initiative Protection Agenda followed. After the coffee break, the group was divided in four smaller groups to brainstorm on strategies and plans for collaboration based on guiding questions. The Roundtable concluded with a networking lunch.
There is a discussion brief available summing up the main outcomes and recommendations from the Roundtable.
International Migration Conference and Book Launch – Living with Floods in Southeast Asia
The Roundtable was organized back-to-back with an International Conference to Commemorate Migrants Day entitled "A Forced March into Uncertainty – Migration, Security and Justice", organized on 18 and 19 December 2017 by Chulalongkorn University, Bangkok. Conference participants included national and international academics, scholars and experts on migration studies.
A panel on 18 December was dedicated to the launch of a book, Living with Floods in Mobile Southeast Asia. The panel was chaired by Assistant Professor Naruemon Thabchumpon and presentations were given by Carl Middleton (Chulalongkorn University), Bernadette Resurreccion (SEI), Albert Salamanca (SEI) and Narumon Arunotai. Apichai Sunchina (Independent Development Specialist) and Sarah Koeltzow (PDD Coordination Unit) provided comments and responded to panelists' presentations of their chapters on the impact of flooding on human mobility in different countries in the region.
Read a review of the book and a description of the book launch in our Perspectives Section.
An overview of the book contents and its first chapter are available free of charge on the Routledge Website.
About the co-organizers
Since 2015, The Nansen Initiative Protection Agenda has offered States a toolbox to better prevent and prepare for displacement before a disaster strikes, and to respond to challenges of internal or international displacement. Currently the Platform on Disaster Displacement (PDD) is seeking to implement the recommendations of the Protection Agenda through national engagement and regional and international cooperation. The establishment of strong partnerships between policymakers, practitioners and researchers is a core feature of the Platform's initiatives aiming at addressing the diverse challenges of disaster-displacement.
With a focus on delivering through research supporting policy and decision-making to achieve more equitable, resilient and sustainable societies in Asia, the work at the Stockholm Environment Institute (SEI) Asia Centre has offered insights and solutions on topics critical to sustainable development in in the Asia-Pacific region – from the SDGs and the Paris Climate Agreement to gender equality, disaster risk reduction, and urbanization. SEI Asia established the International Centre of Excellence on Transforming Development and Disaster Risk (ICoE-TDDR) in August 2017. The ICoE-TDDR seeks to integrate disaster risk reduction with equitable, sustainable and resilient development through research and policy engagement. SEI-Asia also hosts the Gender, Environment and Development (GED) Research Cluster which applies gender and social equality perspectives to environment and development issues across Asia. The Sustainable Mekong Research Network (SUMERNET) is also hosted by SEI Asia and works towards supporting the sustainable development of the Mekong Region through partnerships with Mekong researchers for scientifically robust and policy-relevant research and outreach.
The Asia Research Centre for Migration (ARCM) grew out of an earlier unit of the Institute of Asia Studies (IAS), the Indochinese Refugee Information Center (IRIC), which had been established in 1987 to observe and study the movement of refugees from Cambodia, Laos, Vietnam, and other points of Southeast Asian origin in search of asylum in Thailand. As that refugee crisis abated with a variety of successful resettlement and repatriation programs, new concerns were emerging with respect to the rise of other refugee flows (both legal and irregular) in Southeast Asia, the magnitude of those flows, and the need for in-depth understanding of the process and the means towards its resolution. Thus, IRIC was reorganized and renamed ARCM. The Centre aims at monitoring, gathering data, undertaking research, and providing policy recommendations and related services to the government, non-government, and private sectors on cross-border migration trends and processes in Southeast Asia, with particular emphasis on Thailand.
2014 Nansen Initiative Regional Consultation - Southeast Asia