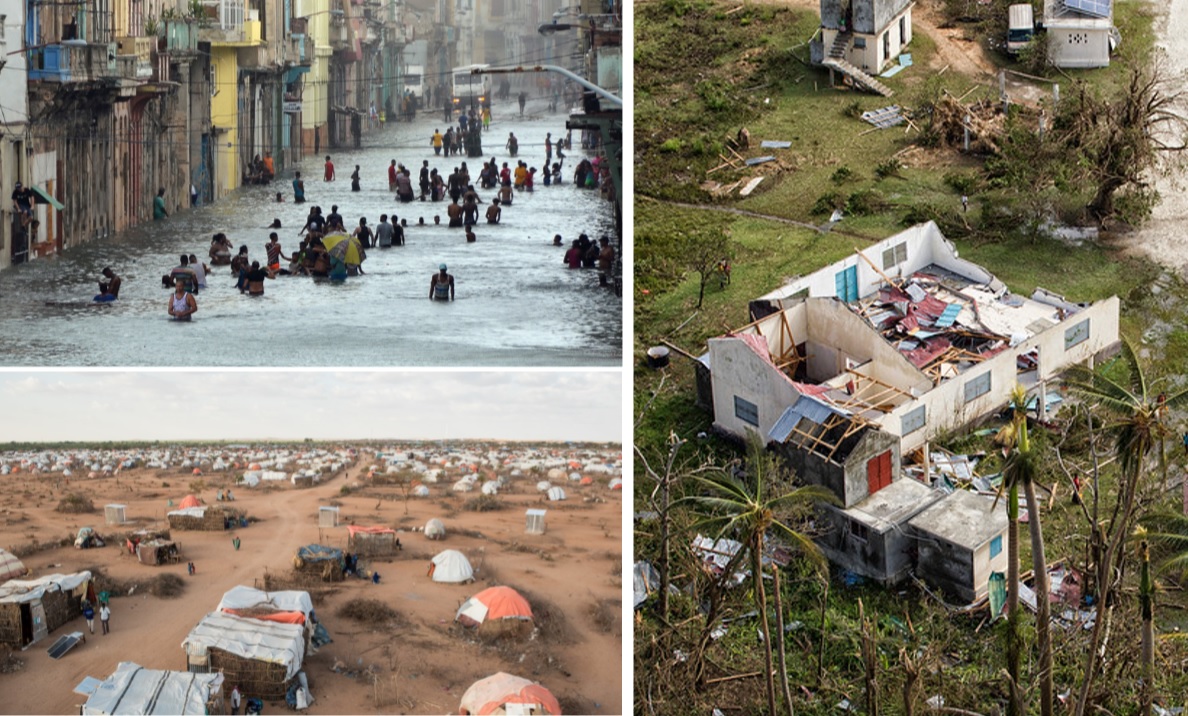 Disaster Displacement at the ECOSOC Humanitarian Affairs Segment
Geneva, Switzerland 25 June 2019 – The side-event on Addressing Internal Displacement Associated with Disasters and Conflict: Planning for the Long Haul took place in the margins of the United Nations Economic and Social Council Humanitarian Affairs Segment (ECOSOC HAS) 
The topic of disaster displacement was discussed already during the panel discussion on Preparing for the future in the face of climate change and weather-related disasters: strengthening preparedness and humanitarian response and collaborating to build resilience and address escalating risks and challenges, at the ECOSOC HAS.The Chair H.E. Mr. Omar Hilale (Permanent Representative of the Kingdom of Morocco and Vice-President of the Economic and Social Council Moderator) mentioned that since 2008, disasters have displaced three times more people than conflict. The moderator,  Ms. Ursula Mueller (Assistant Secretary-General for Humanitarian Affairs and Deputy Emergency Relief Coordinator) underlined that cyclone Idai displaced tens of thousands people. Ms. Michelle Bachelet (United Nations High Commissioner for Human Rights) stated that protecting against forced displacement was a State obligation. Disaster Displacement was further discussed in more depth as the central topic of the side-event on Addressing Internal Displacement Associated with Disasters and Conflict: Planning for the Long Haul, that took place the same day.
Ms. Cecilia Jimenez, UN Special Rapporteur on the human rights of internally displaced persons (IDPs), opened the side-event with a keynote speech. She briefly presented the Guiding Principles on Internal Displacement. She then highlighted the challenges around protracted displacement: one of them being that disaster displacement is often considered temporary, despite data supporting that it can become protracted. To overcome these challenges, she raised the importance to include all actors on the ground, to support cross-fertilization and learning among States on how to prevent displacement. She underlined the need to bring visibility and attention more generally to displacement; but also, how essential it is to include a meaningful participation of IDPs in decision-making, for better needs assessments, better service provision, and informed solutions. She shared the importance of data and analysis on internal displacement, protracted displacement and durable solutions, and underlined that challenges on IDPs data are similar in disaster and conflict: policy makers disconnected from data producers, and the need to consider personal stories. She insisted on the inclusion of IDPs in national development plans and development of national policies and law on displacement. Should there be a stand-alone IDP document or amend legislation to include displacement policies? The answer is context specific and depends on the capacity of the State.
Ms. Mayada Al-Karaghouli, Second Deputy Permanent Representative from the Mission of Iraq in Geneva, shared that the terrorist control and its violent methods against civilians in three of the largest cities caused a humanitarian crisis. She underlined that more than 6 million people were displaced. She acknowledged the help of the international community to provide support and protect IDPs. The Iraqi government worked with the international community, including the UN and international NGOs, to ensure conditions suitable for a safe and voluntary return, rehabilitation of damaged infrastructure, and restoration of livelihood: 4 million returnees as of 2018.
Ms. Monique Pariat, Director-General DG European Civil Protection and Humanitarian Aid Operations, explained humanitarian assistance can be a first response for IDPs, but long-term measures are needed. Humanitarian assistance needs to be bridged to development: starting with joint needs assessment, joint analysis; but also a strong streamlined coordination between organizations, local businesses, and on the ground. Substantial financial commitment, that would be a multi-year and unearmarked funding, is needed. She underlined the need for further advocacy and shared the creation of a High-level panel on IDPs to contribute to it.
Ms. Bina Desai, Head of Policy and Research at Internal Displacement Monitoring Centre, highlighted progress made in risk modelling and in filling IDP data gaps. She shared that majority of disaster displacement data is sourced by government agencies. However, she underlined important areas that need improvement as disaggregated data; and major data gaps as in how to measure and understand drivers of displacement, impacts of displacement, duration, severity and end of displacement, in particular when protracted.
Prof. Walter Kaelin, Envoy of the Chair of the Platform on Disaster Displacement, questioned the difference between disaster and conflict displacement. Causes are different, but might interact: as in the example of Somalia where drought and climate change exacerbate conflict. He underlined that from a displaced person perspective, displacement is a process of loss: the same process weather displaced by disaster or conflict. It exacerbates discrimination and human rights violations are many, when unable to react and provide protection. Humanitarian needs are similar, but protection needs can vary. He further talked about the return of people displaced by disasters, which is not always possible. He gave the example of the Somalia durable solutions initiative: it mainstreams internal displacement into national development plans; it develops models of community planning, where IDPs are considered communities rather than beneficiaries. He concluded with the need to scale up and adopt a whole of government approach, which constitutes here a major challenge.
The discussion that followed included internal displacement in the Inter-Agency Standing Committee; data security and potential misuses; durable solutions and development funding; the need to understand interconnected drivers, such as socioeconomic contexts; community based planning processes; and meaningful participation focused on what IDPs want rather than what they need and what capacity they have.
This event was convened under the auspices of the GP20 Plan of Action for Advancing Prevention, Protection and Solutions for IDPs with its co-chairs, OCHA and UNHCR, and Special Adviser, the Special Rapporteur on the Human Rights of IDPs. It was organized by the GP20 Coordinator, OCHA and the Internal Displacement Monitoring Centre (IDMC). GP20 Plan of Action partners and the Platform on Disaster Displacement were co-sponsors of this event.
Watch the introductory video of the panel discussion on Preparing for the future in the face of climate change and weather-related disasters:
If we do not change course by 2020, climate change and its devastating consequences will be out of control:#ECOSOC pic.twitter.com/IhjPS0yZ3Q

— UN Humanitarian (@UNOCHA) June 25, 2019
Download the Concept Note of side-event on Addressing Internal Displacement Associated with Disasters and Conflict: