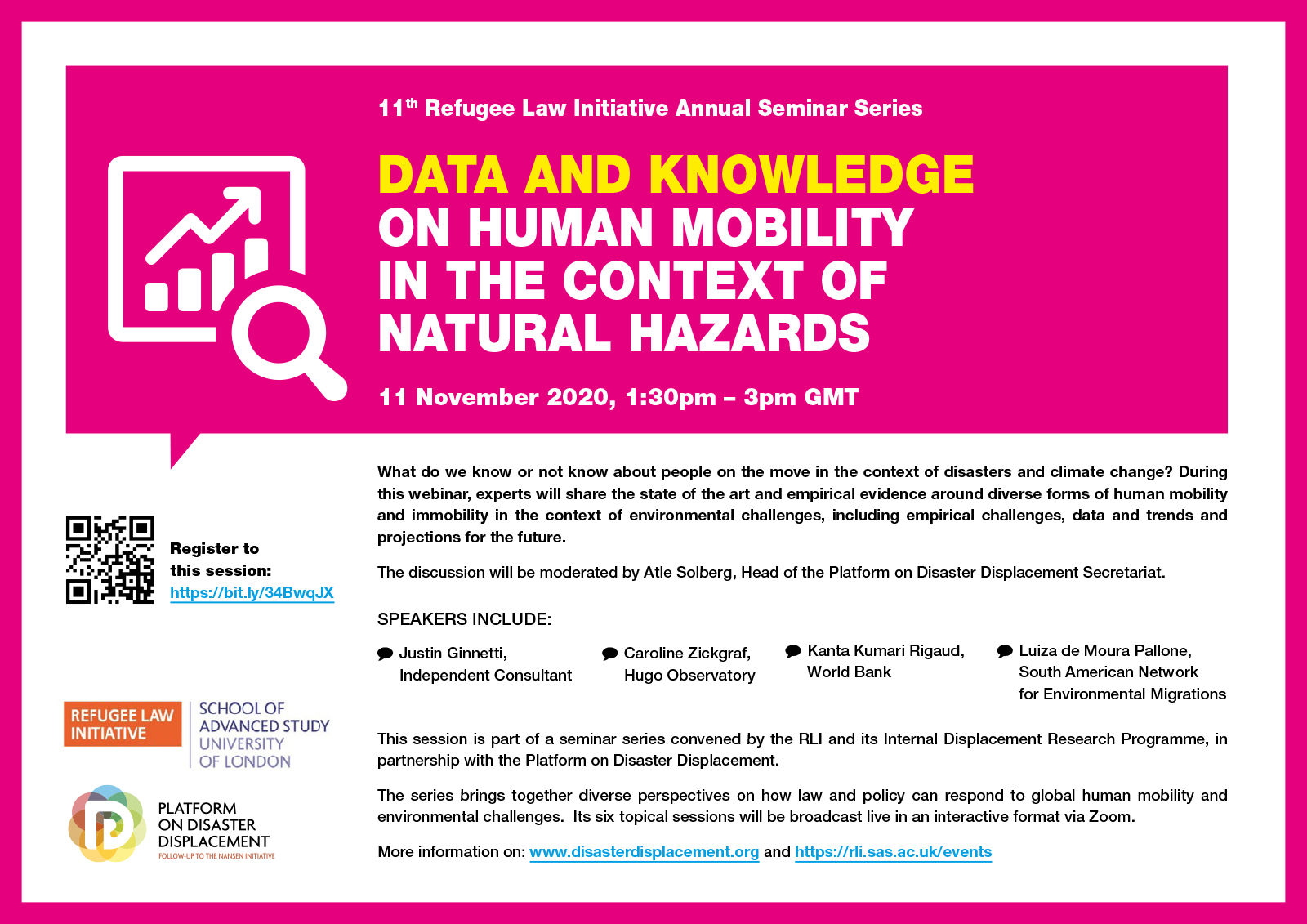 Webinar | Data and Knowledge on Human Mobility in the Context of Natural Hazards
What do we know or not know about people on the move in the context of disasters and climate change? During this webinar, experts will share the state of the art and empirical evidence around diverse forms of human mobility and immobility in the context of environmental challenges, including empirical challenges, data and trends and projections for the future.
The discussion will be moderated by Atle Solberg, Head of the Platform on Disaster Displacement Secretariat.
Speakers include:
Justin Ginnetti, Independent Consultant
Caroline Zickgraf, Hugo Observatory
Kanta Kumari Rigaud, World Bank
Luiza de Moura Pallone, South American Network for Environmental Migrations (RESAMA)
This session is the second in a seminar series convened by the Refugee Law Initiative and its Internal Displacement Research Programme, in partnership with the Platform on Disaster Displacement.
The series brings together diverse scholarly and practitioner perspectives on how law and policy can respond to global human mobility and environmental challenges.  Its six topical sessions will be broadcast live in an interactive format via Zoom.
Register for the session: https://rli.sas.ac.uk/events/event/23013
More information on https://rli.sas.ac.uk/events
Watch the recording of the session here
Learn more about our partner the Refugee Law Initiative
Learn more about the seminar series
Download the event flyer
Download the series flyer:
Download the programme for the series:
Learn more about PDD's work in our Workplan 2019-2022: