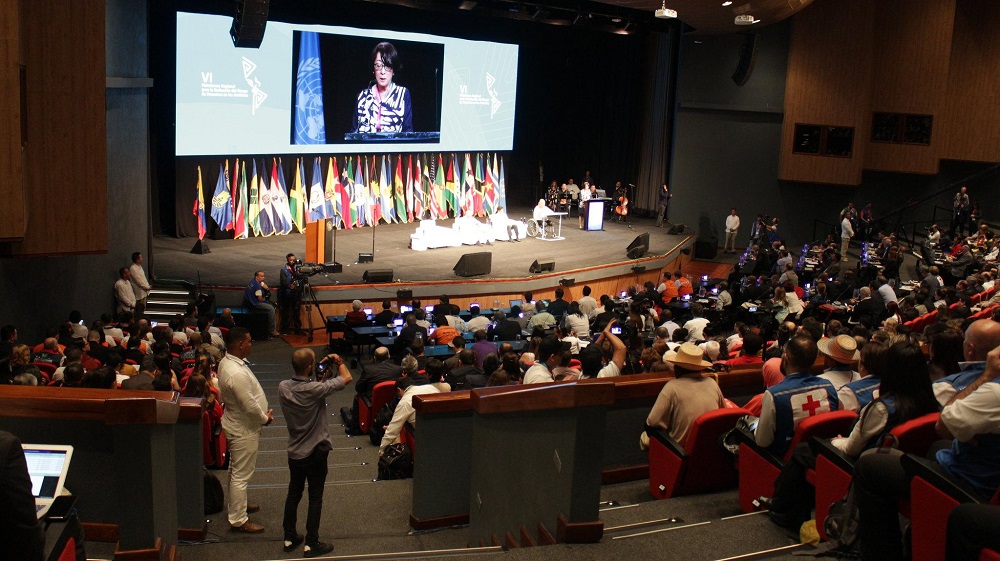 Reporting Back | Disaster Displacement at the Regional Platforms for Disaster Risk Reduction
Four Regional Platforms for Disaster Risk Reduction (DRR) are taking place this November, 2021. Usually spread out in the period between the Global Platforms, the virtual or hybrid nature of the 2021 Regional Platforms allowed them to happen back to back in one month. In case you were unable to join them all, find out more below on what was discussed in Jamaica, Morocco and Kenya, relevant to disaster displacement and DRR.
Seventh Regional Platform for DRR in the Americas and the Caribbean
First came the Seventh Regional Platform for DRR in the Americas and the Caribbean from 1-4 November, where PDD co-led a session on 'Integrating disaster displacement into DRR strategies, policies, plans and legal frameworks'. Importantly, the outcome documents include strong references to disaster displacement: the Ministerial Declaration (in English, Spanish and French) even acknowledges (18.) "that disasters have become a major cause of forced displacement, requiring concerted action at the local, sub-national, national and regional levels to address disaster displacement risks and impacts, including additional pressures on host countries and communities". The Regional Action Plan (in English, Spanish and French) foresees the need to (24.) "Strengthen cross-sectoral, coordinated action to address the diverse and region-specific challenges of human mobility in the context of disasters and climate change" and PDD stands ready, with our partners, to support governments in the region doing exactly that.
Fifth Arab Regional Platform for DRR
It was the first time at the Fifth Arab Regional Platform for DRR from 8-11 November that a special session was dedicated to "Climate Risks and Displacement in the Arab Region: Challenges and Opportunities". It was led by the Arab Network for Environment and Development (RAED) in collaboration with the Norwegian Refugee Council (NRC). Representatives from Morocco, the League of Arab States, the Internal Displacement Monitoring Centre (IDMC) and the MENA Red Crescent shared their perspectives on the issue.
They presented the impact of climate change on displacement in the region and the region's vulnerability in particular to drought, flood and water scarcity. In fragile contexts where conflict and violence interacts with disasters and climate change as drivers of displacement, it is particularly important to include persons at risk of displacement as well as displaced persons and refugees in DRR strategies and planning. The League of Arab States stressed the need to work together across the countries in the region, linking DRR efforts with climate change adaptation, development and poverty eradication efforts to strengthen the resilience of vulnerable communities. More data is urgently needed to inform cross-sectoral approaches to displacement in the context of disasters and climate change.
NRC presented tools that governments, policy makers and practitioners can use, throughout the region, to ensure that displacement is integrated in national and local DRR strategies, plans and practice, such as the UNDRR Words into Action Guidelines on Disaster Displacement, the Checklist (in English and Spanish) and the eLearning developed with a wide network of partners and freely available to everyone interested in reducing the risk of disaster displacement, protecting the rights of those displaced and addressing their specific needs, as well as helping them find durable solutions. The Red Crescent stressed the need for legal preparedness – planning for disasters and early warning are crucial to reduce vulnerability. The League of Arab States is committed to addressing this issue, including through commissioning necessary studies and data collection. It was proposed that a mapping on the inclusion of disaster displacement in DRR, Climate Change and Development Policies conducted in the IGAD Region could be replicated for the Arab region.
In the Rabat Declaration for DRR, governments from the Arab region "express [their] full awareness of the increasing frequency of hazards and the resulting scale of human and economic losses." They recognize that they "face multiple challenges […] that directly affect the environment, populations, human movements and infrastructure".
Eighth Africa Regional Platform for DRR
The third regional platform to take place this November 2021 was the Eighth Africa Regional Platform for DRR, running from 16-19 November. It was aimed "towards disaster risk-informed development for a resilient Africa in a COVID-19 transformed world" and convened African ministers on its last day to issue the Nairobi Declaration (in English and French) which recognizes the "systemic nature of risk, illustrated by interconnected and simultaneous disasters and their cascading and devastating impacts, including loss of lives and livelihoods, damage to infrastructure, and displacement, exacerbated by COVID-19, climate change, environmental degradation, unplanned and rapid urbanization, poverty, inequality and conflict", among others. The declaration calls upon (21.) "Member States, Regional Economic Communities and the African Union Commission to consider disaster-induced displacement in regional, sub-regional, national, and local levels and integrate disaster risk reduction, climate change and development strategies and plans to reduce and prevent the risk of disaster displacement, and thus build the resilience of displaced people and host communities". Disaster Displacement was an omnipresent topic during the Platform, commencing with a pre-conference event on 16 November that focused on the Words into Action on Disaster Displacement Guidelines and accompanying tools and their implementation in two African countries, South Africa and Mozambique. Mozambique shared its experience working with partners including IOM, UNHCR, the NRC and Oxfam South Africa to craft internal displacement guidelines, drawing on the Words into Action guidance to "to prevent and address displacement in Mozambique regardless of its cause." South Africa presented its displacement guidelines and the legal and policy framework they will strengthen. NRC Mozambique, Oxfam South Africa and Oxfam Malawi shared their perspectives and efforts on including disaster displacement appropriately in disaster risk reduction and response.
A virtual booth was available throughout the Platform for stakeholders to learn more about the available Words into Action guidelines, checklist and eLearning. Policy makers and practitioners may find more information there on how to access trainings and further support to implement these tools.
On 17 November, a parallel working session on "Addressing Disaster Displacement" took place under the leadership of UNDRR and IGAD. IDMC gave an overview of available data and dynamics on disaster-induced displacement in Sub-Saharan Africa, and IIED and NRC followed to present relevant tools that governments and other stakeholders can use to assess displacement risk and address it in relevant policies at national and local levels. The IGAD Secretariat shared examples and effective practices from the regional and national levels on working with partners to obtain better data and risk models on displacement, while ensuring that strong policies and capacities exist to address disaster displacement. Participants then learned from the governments of Mozambique and Uganda about efforts made regarding policy development and implementation to be better prepared for and respond to disaster displacement, occurring internally as well as across the borders of neighbouring countries. Mozambique's internal displacement policy was finalized in 2021; Uganda has created district disaster management committees collecting data and reporting monthly to the Office of the Prime Minister, including on displacement figures and impacts.
Upcoming Regional Platforms for DRR
The last week of November will see the European Forum for DRR from 24-26 November, taking place in a virtual and in-person format hosted by the government of Portugal, at which you are warmly invited to join us for a side event on 25 November on "Putting Words into Action – Addressing disaster displacement in DRR strategies in practice".
The Asia Pacific Ministerial Conference on DRR will take place in Australia in the second half of 2022. On 8-9 December 2021, the Asia Pacific Action Plan 2021-2024 will be launched in a special session of the Asia Pacific Partnership Forum on DRR.
Header photo © UNDRR
WATCH "Integrating disaster displacement into DRR strategies, policies, plans and legal frameworks" at the Americas & Caribbean Regional Platform
WATCH - "Addressing Disaster Displacement" at the Africa Regional Platform
Read the PDD's Policy Brief and Key Messages