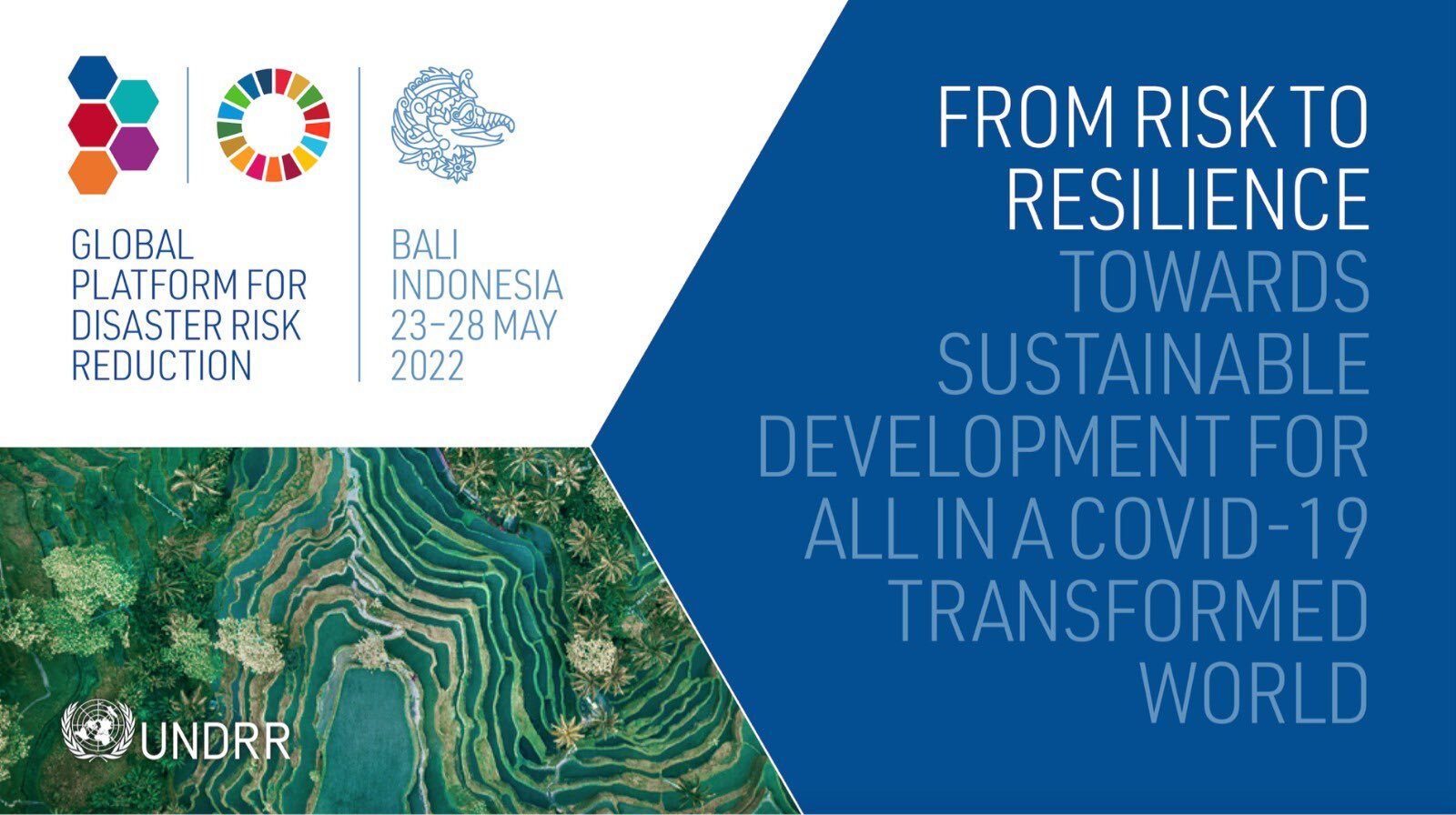 Disaster Displacement at the 2022 Global Platform for Disaster Risk Reduction
Will you be attending the 2022 Global Platform (GP22) for Disaster Risk Reduction (DRR) scheduled from 23 to 28 May 2022 in Bali? Are you looking to learn more about how displacement relating to disasters and the adverse effects of climate change is being addressed at the conference? Are you in need for inspiration on key messages to include in your delegation's interventions? Then, look no further – and do come back, since this article will be continuously updated as new information arrives!
In the right margin of this article, we will soon include the Platform on Disaster Displacement (PDD) Policy Brief and Key Messages on Disaster Displacement and DRR as well as other resources for further reading that States and other stakeholders can use to inform their interventions at the different events and sessions at GP22.
What does GP22 offer on disaster displacement?
This Seventh Session of the Global Platform for Disaster Risk Reduction is organized by the United Nations Office for Disaster Risk Reduction (UNDRR) and hosted by the Government of Indonesia.
Below you can find a non-exhaustive list of relevant events discussing disaster displacement that are scheduled to take place during GP22. The table will be regularly updated as further information becomes available. If you have any events to add to this list or relevant information about the ones already there, please email info@disasterdisplacement.org.
Read the Platform on Disaster Displacement Policy Brief and Key Messages for GP22
Date & time
Title / Theme
Organizer(s)
Location
Running throughout GP2022
The Innovation Platform
Anticipation Hub; Displacement: Uncertain Journeys; Global Network of Civil Society Organisations for Disaster Reduction; Norwegian Refugee Council; Platform on Disaster Displacement.
Taman Jepun (TBC)
24 May
09:00 - 10:30 WIB
Displacement Constituency Session - SEM Forum
Platform on Disaster Displacement; Norwegian Refugee Council
The Auditorium (BICC Building – Ground FI.)
25 May
17:30 - 19:00 WIB
Side Event: "Addressing loss and damage, supporting the most vulnerable: lessons from DRR and climate change action"
Platform on Disaster Displacement; International Organization for Migration; United Nations Office for the Coordination of Humanitarian Affairs; United Nations Development Programme; United Nations Office for Disaster Risk Reduction; United Nations High Commissioner for Refugees; International Federation of Red Cross and Red Crescent Societies; Norwegian Refugee Council; Internal Displacement Monitoring Centre; Deutsche Gesellschaft für Internationale Zusammenarbeit; American Red Cross; Climate Action Network; Climate Vulnerable Forum; Global Network of Civil Society Organisations for Disaster Reduction; Norwegian Refugee Council; Refugee and Migratory Movements Research Unit; Governments of Australia, Bangladesh, Germany, Fiji, Mexico, Norway and Philippines.
Singaraja Hall 2
BNDCC 1-1st Floor
26 May
14:15 - 15:45 WIB

Remote participation available to those registered for the conference

Livestreamed (Link to be shared)
Thematic Session: "Strengthening Governance to Reduce Disaster-related Displacement"
Asia Pacific Disaster Displacement Group; Chile National Emergency Office; Economic Justice Network Sierra Leone; Deutsche Gesellschaft für Internationale Zusammenarbeit; Global Network of Civil Society Organisations for Disaster Reduction; International Federation of Red Cross and Red Crescent Societies; Norwegian Refugee Council; Platform on Disaster Displacement; Resilience Development Initiative (Indonesia); University of Copenhagen; United Nations High Commissioner for Refugees.
Pecatu Hall
BNDCC 2-Ground Floor
27 May
13:15 - 13:30 WIB
Ignite Stage: Preparing for disaster displacement across borders - a simulation exercise between Colombia and Ecuador
Governments of Colombia and Ecuador; Platform on Disaster Displacement.
Taman Jepun
BNDCC 1-Ground Floor
Additional relevant special session(s):