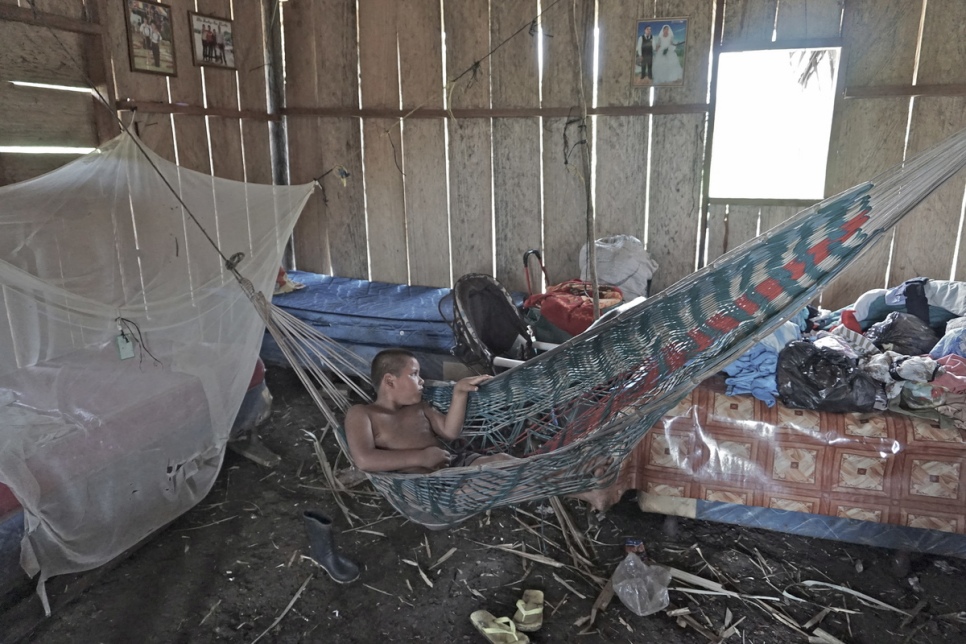 The UN Refugee Agency and its partners are to provide relief and reconstruction assistance to the victims of Hurricane Earl, including asylum-seekers from the Northern Triangle.
By: Brooke Del Greco and Giulia Batistella   |  17 August 2016, published on UNHCR website.
BELMOPAN, Belize – Jorge pulls the phone from his pocket and plays a brief video showing flooded marshland and the barely visible rooftop of his home in the distance, all but submerged under the surrounding expanse of water.

"It's all gone," he says, staring blankly at the others who had gathered at a local office of a Belize NGO, Help for Progress, on the outskirts of the capital, Belmopan, seeking help to rebuild their lives in the wake of Hurricane Earl.
"Everything we had is already gone," says Jorge, 42, who is one of around 10,000 people in the tiny Central American nation whose lives were devastated by Earl, which churned ashore on August 4, dumping up to 30 centimetres of rain and causing widespread flooding.
Originally from El Salvador, he is among 3,000 asylum-seekers forced to flee uprecedented violence in their home countries of El Salvador, Guatemala and Honduras – the so-called Northern Triangle of Central America – who were hit hard by the storm in Belize, where they currently reside.
Others include six-year-old Edgar,* who lies in a hammock strung inside a soggy thatch hut in Armenia, Belize. The hammock is his new bed, he explains, until his mattress can dry out. Nearby, his nine-month-old nephew bounces in a walker, its wheels bogged down in the viscous mud floor of their home.
"Everything we had is already gone."
The families are temporarily living near the capital until they can rebuild their own houses, which are now just a pile of wooden planks and braided straw on the other side of the creek in the community, a consequence of Earl's wrath.
In the coming days, UNHCR, the UN Refugee Agency, in cooperation with Help for Progress and other UN agencies, plans to begin distributing relief and reconstruction supplies to vulnerable people like them, in support of Belize government efforts to tackle the devastation left by the storm.
The supplies range from home rebuilding materials, such as galvanized roofing and lumber, to mattresses, blankets and cleaning kits to restore homes made uninhabitable by debris, mud and water damage.
"We are working with our UN sister agencies, our national partner Help for Progress and others in support of the admirable efforts by the Government of Belize to ensure effective help reaches those who need it most," said Soufiane Adjali, the UNHCR representative in Belize.
Earl's 15-hour rampage, packing winds of 75 mph, affected all six districts in Belize. But Belize District, Orange Walk, Cayo – where many of the people of concern to UNHCR reside – and Stann Creek were hit particularly hard. Armenia, for example, is a rural community made up of families who migrated to Belize in the 1990s and others who have recently arrived.
"We are working to ensure effective help reaches those who need it most."
Jorge and his family are part of a new wave of refugees from the Northern Triangle countries who have come to Belize fleeing widespread and deadly gang violence in the region. Jorge's family arrived last year; their application for asylum is currently pending with the Belizean government.
In Valley of Peace, another historic refugee settlement, community leaders report that at least 100 families were adversely affected by Hurricane Earl. In a largely agricultural district where residents depend on crop production for their livelihood, Earl's devastation of their plots has left them with virtually no means of earning an income.
In the days since Earl struck, UNHCR, together with its national implementing partner Help for Progress, has toured immigrant communities in areas surrounding Belmopan, where many affected families lack basic provisions, shelter, beds and proper sanitation. While UNHCR continues to conduct field assessments, people have streamed to Help for Progress to request assistance with food and building materials.
In collaboration with the UN Development Programme, UNHCR requested emergency humanitarian assistance to support its populations of concern through this crisis. The UN Office for the Coordination of Humanitarian Affairs responded with a $46,000 grant, of which $25,000 will aid with recovery efforts for particularly vulnerable refugee families in Belize.
*Name changed for protection reasons.
Visit the photo gallery of the Platform on Disaster Displacement