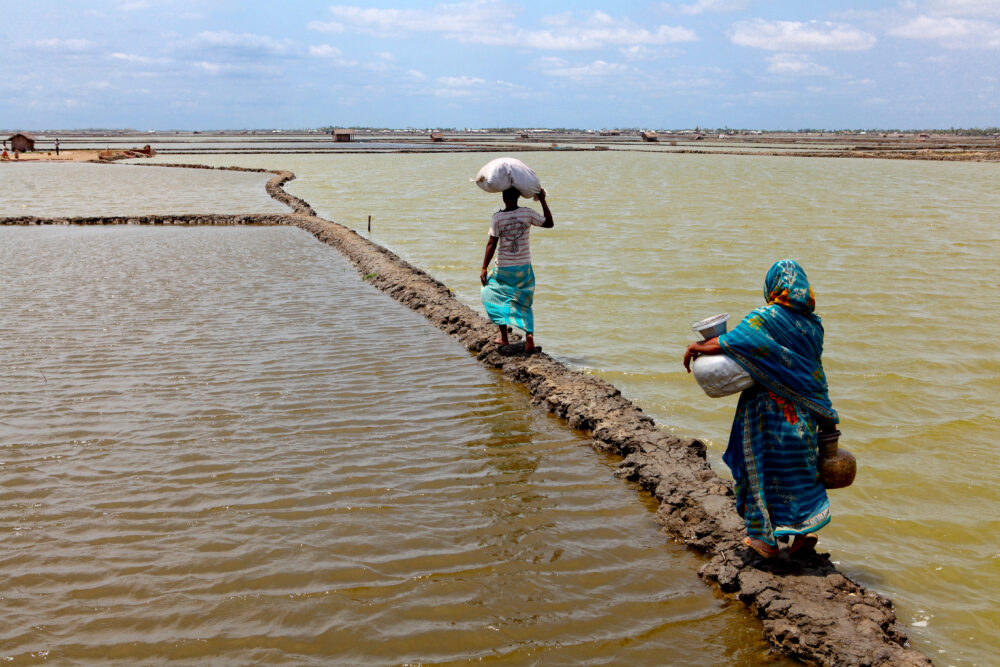 Disaster Displacement at COP25
Will you be in Madrid during the first two weeks of December 2019? Are you looking to learn more about how displacement relating to disasters or the adverse effects of climate change are being addressed?
Here is a non-exhaustive list of events on disaster displacement related topics that are scheduled to take place during the the 25th Conference of the Parties (COP25) on Climate Change that will be updated periodically. If you have any events to add to this list or relevant information about the ones already there, please email info@disasterdisplacement.org. 
United Nations Climate Change Conference (COP25)
Events at IFEMA Feria de Madrid, Spain 1-13 December 2019
Organizer(s)
Title / Theme
Date
Time / Room
Secretariat of the UNFCCC
Warsaw International Mechanism (WIM) Review Event
1 Dec 2019, Sunday

Full Day
Carre Geo & Environment (CGE), Bangladesh Centre for Advanced Studies (BCAS)
Political issues of environmental migration
2 Dec 2019, Monday

15:00-16:30
Room 2
ActionAid International, Rosa-Luxemburg-Stiftung - Gesellschaftsanalye und politische Bildung e.V. (RLS), Coastal Association for Social Transformation Trust (COAST Trust, Federation of American Women's Clubs Overseas, Inc. (FAWCO)
Beyond Labels, Beyond Borders: Advancing rights-based protection of climate-induced migrants
2 Dec 2019, Monday

18:30-20:00
Room 3

COASt Trust, Center for Participatory Research and Development (CPRD)
Exhibit: A Tale from Climate Ground Zero: Vulnerability and Resilient in Water Crisis of Bangladesh
02/03 Dec 2019
Booth 25
Rosa-Luxemburg-Stiftung, Tuvalu Climate Action Network, Bread for the World
Climate-induced migration
3 Dec 2019, Tuesday
11:00-12:30
German Pavilion
PDD
Showcasing artwork of the ten finalists of the 2019 COAL Prize
3 Dec 2019, Tuesday
16:00-17:00
French Pavilion
Secretariat of the UNFCCC
Moving forward together: the second phase of the Task Force on Displacement
3 Dec 2019,
Tuesday
18:30—20:00
Room 4
PDD
2019 COAL Prize ceremony
4 Dec 2019, Wednesday
12:30-13:30
French Pavilion
COAST Trust
Press conference: CSO Expectations from COP25
5 Dec 2019, Thursday

11:00-11:30
PDD
Showcasing artwork of the ten finalists of the 2019 COAL Prize
5 Dec 2019, Thursday
16:00-17:00
French Pavilion
CGE
Exhibit: The challenges of environmental migration
06/07 Dec 2019
Booth 11
Centre Internationale de droit Compare de l'Environnement (CIDCE), An Organization for Socio-Economic Development (AOSED)
Climatic loss and damage and environmentally displaced persons
7 Dec 2019, Saturday
15:00—16:30
Room 1
Global Ocean Forum
Oceans Action Day Session 3: Knowledge/Science For Adaptation And Displacement Policies And Practices: Development And Implementation In Oceans And Coastal Zones
7 Dec 2019, Saturday
16:00-17:00
Japanese Pavillion
Stitching Climate Action Network South Asia (CANSA), CPRD, Sustainable Development Policy Institute (SDPI), Watershed Organisation Trust (WOTR)
Responses to protect rights of climate migrants in South Asia
7 Dec 2019, Saturday
16:45-18:15
Room 1
CARRE Geo, Environment France
Enjeux politiques des migrations environnementales
9 Dec 2019, Monday
(tbc)
Government of Fiji
Official launch of Fiji's Displacement Guidelines in the context of climate change and disasters
11 Dec 2019, Wednesday
09:00-10:00
Moana Blue Pacific Pavilion
WIM ExCom
Loss and Damage Block
11 Dec 2019, Wednesday
09:30-12:30
Capacity-Building Hub
International Center for Comparative
Environmental Law (CIDCE)
Climatic loss and damages
and environmentally displaced persons
12 Dec 2019, Thursday

11:30-13:00
Room 3
United Nations
Strengthening Synergies, Accelerating Ambition
12 Dec 2019, Thursday
13:15-14:45
Room 1

Norwegian Refugee Council (NRC), Arab Network for Environment and Development (RAED), Oxford Climate Policy, Université de Liège (ULg)
Displacement, human mobility, and climate change
12 Dec 2019, Thursday
15:00—16:30
Room 4
United Nations
Climate change and human mobility: responding to displacement and migration challenges
12 Dec 2019, Thursday

18:30—20:00
Room 4
International Center for Comparative
Environmental Law (CIDCE)
Les
droits de l'homme des déplacés environnementaux et climatiques
13 Dec 2019,
Friday
13:00-14:30
Pavilion of La Francophonie
Keep up to date with the latest information about the UN Climate Change Conference 
Download the list of disaster displacement related topics at the UN Climate Change Conference in Madrid
Download the flyer for the side event marking the second phase of the Task Force on Displacement